<< PRESS ALERT – LIVE AT 5 INVITE >>
Press Contact Shawnta High, 202-549-0439, parkmortonresidentcouncil@gmail.com
PARK MORTON RESIDENTS WILL DEMONSTRATE AGAINST DISPLACEMENT BY THE DISTRICT OF COLUMBIA HOUSING AUTHORITY – TUESDAY FEB 25 – 5:00PM
WARD ONE COUNCILMEMBER BRIANNE NADEAU WILL BE IN ATTENDANCE
On the evening of Tuesday, February 25 (rain or shine), Park Morton Residents will be demonstrating against being pushed out from their homes due to the DC Housing Authority's planned gentrification.
Park Morton Stand Up! Demonstration For Equity!
TUESDAY FEBRUARY 25, 2020
* 4:30PM — Gather at corner of Park Rd. & Georgia Ave. NW. * 5:00PM — Loud and Proud Demonstration!

THE MESSAGE:
▫ Build 1st! ▫ Equity To Residents! ▫ Execute The Park Morton Equity Plan Now! ▫ Hell No! We Won't Go! ▫ Homes To Us!  ▫ Our Right To Stay! ▫ Stop Displacement! ▫ Equity Is Our Right! ▫ Park Morton Is Ours! ▫ DCHA & HUD Has Ignored Us! ▫ Keep Public Housing! ▫ The Fight Continues! ▫ Don't Push Us Out! ▫ DCHA Helped 1, Help Us All!! ▫ Keep Us In Our Ward!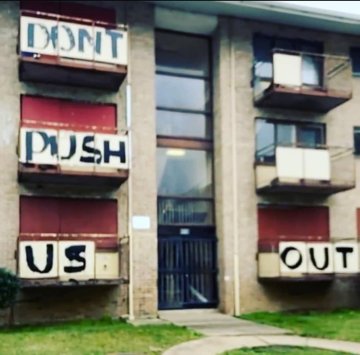 ###