PRESS UPDATE August 31, 2019
Contact Grace McClain, SMAC.DC@gmail.com, (202) 656-3012‬
Mayor Bowser Continues Illegal Demolition at McMillan Park While Attorney General Karl Racine Remains Silent; Supporters File Illegal Demolition Complaint and Plan to Protest Sat Aug 31
Washington, DC – Despite Mayor Bowser claiming otherwise (WBJ "District officials insist there's no demolition work underway at McMillan site" by Alex Korma, https://www.bizjournals.com/washington/news/2019/08/27/district-officials-insist-theres-no-demolition.html) illegal demolition activities continue at McMillan Park.  
Private contractors & workers (Gilbane Construction) with backhoes have dug out the Olmsted vines, peeled back the original turf on the northern plains of the site, and physically moved top entry porticos, damaging the roof of the historic McMillan Park subterranean waterworks. This area of the site hasn't been disturbed this way since its construction at the turn of the 20th century.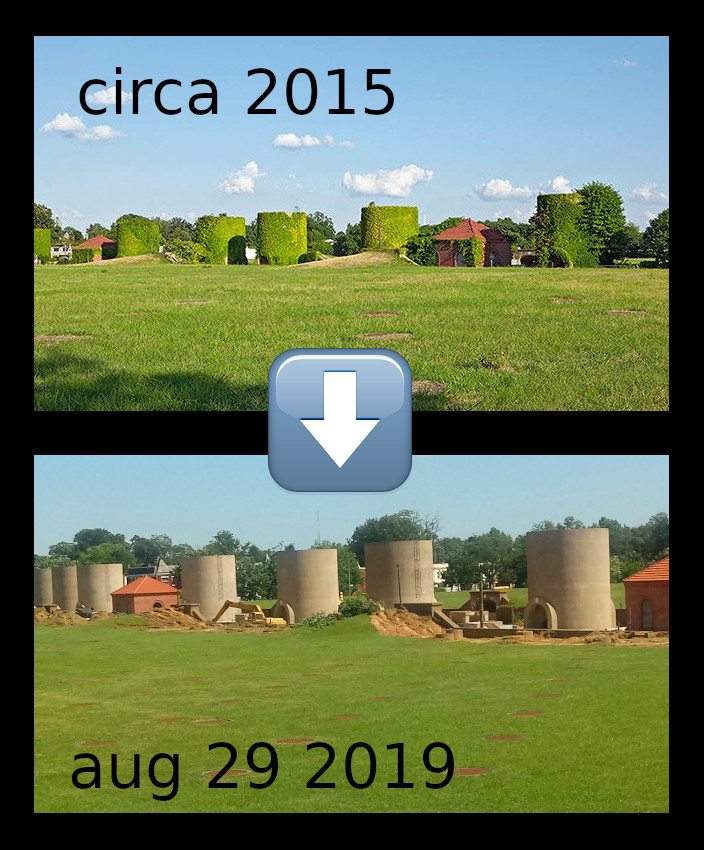 McMillan Park supporters filed a complaint with the Office of Administrative Hearings on Friday, August 30, 2019, after receiving no response whatsoever from Attorney General Karl Racine in seeking his intervention in the illegal demolition now underway.
McMillan Park advocates intend to demonstrate at the site on Saturday, August 31, starting at noon and gathering at 1st and Channing Streets NW.  See FB event announcement here >>
https://www.facebook.com/events/890332574675296/
Demolition started earlier this week. Upon noticing the demo activities, McMillan Park supporters sent Notices of Infraction to the Mayor and OAG Racine and put up banners along the Park perimeter decrying the illegal construction. https://twitter.com/AlexKomaWBJ/status/1166840453079212032
 Although the protest efforts stopped work at the time, just a couple days later demolition crews went headlong into altering and damaging the historic waterworks, a site deemed a cultural asset in the National Register of Historic Places.
"Bowser lies in contemptuous arrogance that it isn't demolition at all, baring her disdain for the truth, and her manipulation that snivels and hardly hides her sell out of our public wealth and very legacy, selling out her own heritage to crass mediocre urbanization," said Daniel Wolkoff, convenor of the McMillan Coalition for Sustainable Agriculture and a Friend of Lincoln's Cottage. "The arrogance of big money and blatant corruption, our ward 5 is just a commodity. The DC government is a national embarrassment, crass inferior and just mercenary at our expense."


###


—