Open Public Letter to the DC Council & Public Citywide:
Did you know — The DC Comp Plan
Did you know the Mayor has proposed 200 million square feet of upFLUMing on the DC Future Land Use Map in the DC Comprehensive Plan?
That is 200 million new square feet of habitable commercial, retail, and residential land uses not in existence right now. https://www.youtube.com/watch?v=baoKBRwB0ec&t=983s
That is 200 million square feet of new humans in the city, population growth that is supposed to be considered alongside other social needs, like more schools, clinics, libraries, parks, transpo, utilities, etc.
https://tinyurl.com/whole-neighborhood-approach
That is 200 million square feet of new people and use that drives up the value of the land and housing around it putting upward pressure on existing housing values and costs! https://www.youtube.com/watch?v=oTFXDTg8KPg
HOW WOULD YOU KNOW THIS 200 Million Square feet of UPFLUMING IS HAPPENING?
HOW DID WE FIND OUT THIS VOLUME OF UPFLUMING IS HAPPENING?
We had to beg to get a volume in square feet of changes the UpFLUMing represented and finally just days before the hearing, we got an email from the Director of the Office of Planning.
The UpFLUMing allows land owners where UpFLUMing happens to ask for a proforma zone map change that would work around community benefits agreements and meaningful community input such as with ANC's along the kind of engagement we see with other zone changes like Planned Unit Developments (PUDs).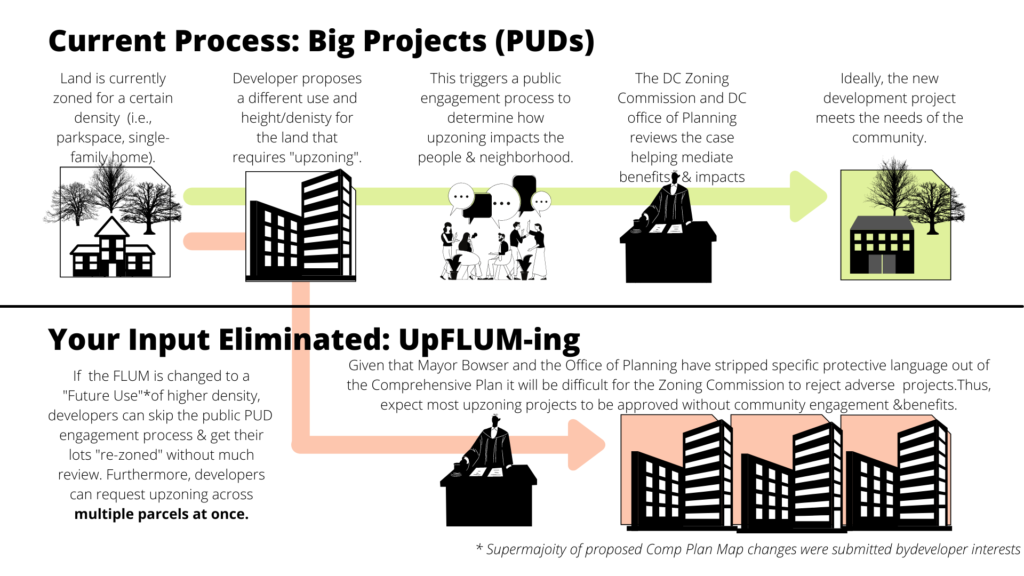 This type of substantial change to the maps and to potential population growth is supposed to be accompanied with impact studies and a showing that the changes benefit and not harm DC neighbors.

DC Code § 1–306.04 (d) "[Amendments to the DC Comprehensive Plan] shall be accompanied by an environmental assessment of the proposed amendments… ."
10A 2515.2, .3 "The greater the degree of change [to the DC Comprehensive Plan] proposed, the greater the burden of showing that the change is justified. … The following supporting information will be required when an amendment is proposed: … e. The anticipated impacts of the change, including the impacts on the geographic area affected and the issues presented. This should include an assessment of net benefits to the city resulting from the change."
CONCLUSION
The proposed Comp Plan map changes cannot be considered modern-day planning in our capital city. Rather, it represents hiding of key facts about changes to the plan that will result in the bypassing of community input and work around doing real planning that repairs the harms of the past and seeks to truly mitigate the impacts of future growth. We can develop our city without more displacement, but these types of changes to the maps are not the way.
See more info here from the DC Grassroots Planning Coalition >>
Thank you,
Chris Otten, Co-Facilitator DC for Reasonable Development
DC Grassroots Steering Committee Member
ANC Commissioner 2008-2010; Candidate for Mayor 2006;
Homeless services advocate and Public property watchdog;
Adams Morgan Resident since 2000