Press Alert — DC FOR REASONABLE DEVELOPMENT
Next Round of McMillan Briefs Are Into DC Court of Appeals

Central Issue: DCRA's Disregard of Safety, Including Exposure of DC Residents and Water Supply to Asbestos
Washington, D.C. – Advocates seeking a new design competition and re-working of redevelopment plans for McMillan Park have filed very thorough and detailed opening briefs to the DC Court of Appeals this week.
    • Friends of McMillan Park Opening Brief (click here)
    • Thirty-one Pro se Petitioners Opening Brief (click here)
The thirty-one residents without attorneys submitted their 39-page opening brief that emphasizes the reality that asbestos is likely woven into the 1.3 million cubic feet of cement within the 20-acres of historic water filtration cells that the city wants to excavate and crush at McMillan Park. 
According to
expert testimony on the record
, because of the period of construction and techniques used in the early 1900's, the cement likely has asbestos woven in as a strengthening binder.
The underground water-cleaning marvel rivals the beauty of former municipal water storage facilities around the world.  Its structural integrity overall is in good shape and the city conducted a financial feasibility to retrofit it for commercial and retail use, but in recent years the Mayor and Council has shifted course and decided to excavate the site for more condos. 
http://www.savemcmillan.org/history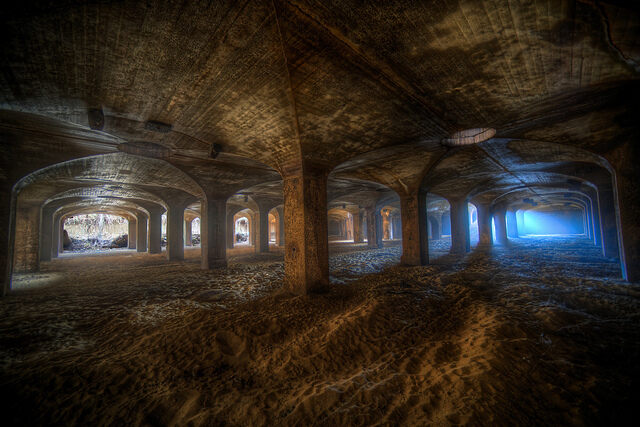 Credit: Erkiletian (Atlas Obscura)
The Petitioners appeal documents make the case that despite their alert to asbestos, neither the private developers nor the city made the effort to test the cement for asbestos, and if they did they certainly did not make these tests available for transparent public review.  

Despite no documentation about asbestos testing on the record, DCRA "prematurely" issued permits to raze the site.
Appellants say DCRA has given a "green light to …the Applicant to unlawfully and unethically expose our community's air and DC's drinking water supply to a known carcinogen imminently threatening significant harm to Petitioners." See Pro se Petitioners Opening Brief at page 31.
DC residents who live around the park have sounded the alarm with the Mayor, with Council Chair Phil Mendelson, and Mayor Muriel Bowser, but they have largely ignored these pleas even despite one of DC's key drinking water reservoirs is located just west across 1st Street, NW from what will be a massive demolition project. www.tinyurl.com/mcmillanparknews
"DC officials want to posit that it is their job to issue permits first, then manage safety considerations later. The city's after-the-fact nonchalant posture to demolition and construction activities is putting the well-being and safety of elders, children, families and residents of DC at risk unnecessarily, and unlawfully, as is happening now at McMillan Park. We ask this Court to use its authority to ensure the city pushes its projects forward without jeopardizing its people, air, and water, per the law." See Pro se Petitioners Opening Brief at page 3.
DC Council Chair, Phil Mendelson was successful in passing legislation to split up DCRA to get at some of the concerns being raised by appellants, but DC Mayor Muriel chose not to fund a new Building Review department in the 2022 Budget. The Council has backed off the split and isn't pressing for the funding.

The Mayor and Office of Attorney General now have three weeks to respond to the claims in Petitioner Opening Briefs. 

###